Derived from
None. Self-made deck here.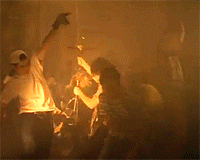 Here's my latest Aggression Ms Marvel deck that I've been having quite a bit of success with. The build will obviously go through quite a few changes once Thor comes out. A few cards may seem a bit out of place, but overall it still works really well, especially for minion-heavy encounters.
I initially put this together after I heard about the interaction of Melee with Embiggen! in that it turns into a 5/5 damage attack, which is pretty great. In doing so, I also just fell in love with the way Ms Marvel plays and how consistent she is with all of her cards, like her alter-ego ability, Aamir Khan, and Bruno Carrelli. Ms Marvel already does so much damage with Big Hands and Embiggen!, and I've added the aforementioned Melee and a couple Uppercut and Relentless Assault for some added layers of damage. No Tac Team and just focusing on as many Attack events as possible to get the most value out of Morphogenetics.
Ms Marvel also manages threat quite well too, and Chase Them Down complements Sneak By and Shrink to help her consistency in dealing with that.
Hulk is mainly in the deck as a meatshield. It may seem weird to have Hulk in a deck and not plan to attack with him, but he can tank quite a few hits for only a cost of 2. When we can build a deck with more , I'd definitely advise attacking with him more. There's an equal chance of just discarding him as there is for all the other effects, but tanking a hit or two and swinging for 3 is still really solid for 2 cost.
No Combat Training because you're almost exclusively relying on your events, but if you're playing multiplayer, definitely try to squeeze a couple copies in to help other players. Both caps, She-hulk, and Black Panther especially will be using their basic actions to attack quite a bit. I would suggest taking out either Uppercut or Relentless Assault to make room for them.
The future looks bright for this deck with all of the fun cards coming in Thor's pack*, but i think there's a lot of great value here already. It's an absolute monster at clearing away an army of minions.
-
-
April 2021 Update:
A lot has happened for Ms. Marvel Aggression since this deck was first posted. Here are some of the best cards to try:
-
Allies
The Champions Brawn, Ironheart, and Spider-Man all make wonderful thematic and mechanically wonderful additions. Quite a few new Avengers have joined the ranks, such as Sentry, She-Hulk, Spider-Girl, Thor, Valkyrie, and Wasp. I like Brawn, Ironheart, and Sentry quite a lot personally, but most ally options are relatively side-grades of each other.
Events
Whewlad. There's been some huge changes for the event suites for MMA. Namely, Drop Kick, Into the Fray, Moment of Triumph, Press the Advantage, and Surprise Attack are good standouts. Beat 'Em Up is also a solid event, just remember that it's not an attack and cannot be buffed with Embiggen. My favourites so far have been Drop Kick, Into the Fray, and Moment of Triumph. Although Press the Advantage looks really great (and is cheap), I'd rather be using bigger events for more damage. Surprise Attack seems tailor-made for Ms. Marvel, but you can only use it once every other turn. You can however store it on Bruno until next turn, but I like to have more agency. It is definitely not a bad choice either way though.
Supports
Hall of Heroes is the only thing to speak of that's come out that does really well with Ms. Marvel in a minion-focused deck. With her repeated trips to Alter-ego and plethora of events that can knock out a lot of minions, you'll have plenty of counters and plenty of chances to draw some cards. Boot Camp seems like a big investment for something you're likely not going to focus on.
Upgrades
A lot of upgrades that have been released focus on dealing damage directly or using a hero's ATK stat in some way, which don't really help Ms. Marvel since her base stats are low and direct damage from non-event sources can't be improved with Embiggen!. That said, Martial Prowess is quite an important addition for certain styles of MMA, especially ones that want to play big events, multiple events per turn, and especially things like Drop Kick that require or you're better off just playing Uppercut. The last good upgrade is Follow Through, which aids overkill events like Into the Fray and Relentless Assault.
Bringing all of this together, in my opinion there are two main archetypes for MM-A: minion-focused and villain-focused. What I want to stress is that just because one is focused on one other the other, it certainly does not mean it only does that. A primary goal of any deck is to get the villain's health to 0; it's all in how you get there.
*Villain-Focused Suite
In my view, a villain-focused deck primarily has hard-hitting events and status effects and deals with threat by racing the villain. For events, the king above all is Drop Kick, which ticks many of the appropriate boxes: high damage, stuns, and drawing cards is always fun. Don't forget Martial Prowess; this along with Biokinetic Polymer Suit means you only need one in hand to get the full kicker. To further complement that, Press the Advantage can push for more damage (and more cards!), and in a pinch, can swing for 4 with Embiggen! to help take out a troublesome minion. Mockingbird and Spider-Girl are good additions, helping to ensure that you have a statused enemy. Melee can work well if you also have to deal with high-HP minions, hitting them and the villain for 5, but the barebones skeleton should be something like:
*Minion-Focused Suite
Unlike the previous, there are actually many options if you want to focus on minions. The main events include Further options include Chase Them Down, Into the Fray, Melee, Moment of Triumph, and Relentless Assault. Chase them Down and Into the Fray reward your good deeds with removing threat. Melee of course makes a return as an option here; it's just a really versatile card, and has fun interactions with Embiggen!. You can take out two <6 HP minions or one minion and hit the boss for 5. Moment of Triumph works well with Into the Fray and Relentless Assault, healing you for any overkill damage you do. This is not absolutely vital though, as you can simply save Kamala's action to heal for 5 and spend that card as a resource instead, so it's all up to personal taste. But it's not just about events.
Although the options for supports and upgrades are quite shallow, the available options are very strong. Hall of Heroes builds over time every time your events defeat minions. With most other heroes, I generally suggest building to 6+ counters so you can draw twice on flipping, but with the frequency Kamala flips to alter-ego, you can easily draw in hero form almost exclusively. If you find yourself with an excess of counters, you can store some important pieces on Bruno Carrelli. Another great option is Follow Through, which increases the 'overkill' of Into the Fray and Relentless Assault, so if your deck includes both of these, give Follow Through a try. And finally, Martial Prowess returns as a great inclusion for an event-based deck.
For dealing with threat, there are two strong ideas. One is to lean heavily on Into the Fray in lieu of Chase Them Down; the other is using them both together as they require the same thing after all: a minion to defeat. If you focus more on Into the Fray, it allows you to forgo Shrink on your first deck pass and only go for Embiggen! and Follow Through. However, you want to go for the higher setup time (or replace Follow Through with Shrink), Chase Them Down can remove 6 threat with Shrink and Morphogenetics--which is quite strong out of aggression.
Here are some sample skeletons to get you started:
No Chase Them Down / Shrink
Chasing Them Down
Big Minion Melee
Hybrid-Style
Instead of focusing on one, you can focus on dealing damage wherever you need it. Drop Kick is still the best for dealing with the villain. Into the Fray and Relentless Assault require minions and deal quite a lot of damage and waste no damage. And finally, Melee, like always, fits in just about any deck depending on your playstyle.
Here's the skeleton:
All the skeletons save the final have 8 cards. Simply add from there. And of course, it's your deck, so make your own changes and experiment! Get out there in the mosh pit and have fun smashing, champions.
28 comments
Jan 02, 2020
Jan 02, 2020
Jan 06, 2020
Jan 08, 2020
Jan 08, 2020
Jan 09, 2020
Jan 09, 2020
Jan 10, 2020
Jan 10, 2020
Jan 10, 2020
Jan 20, 2020
Jan 21, 2020
Jan 23, 2020
Jan 24, 2020
Jan 26, 2020
Mar 18, 2020
Aug 08, 2020
Aug 14, 2020
Aug 17, 2020
Aug 19, 2020
Oct 14, 2020
Oct 18, 2020
Mar 06, 2021
Apr 06, 2021
Apr 08, 2021
Apr 11, 2021
Jan 11, 2022
Jan 12, 2022