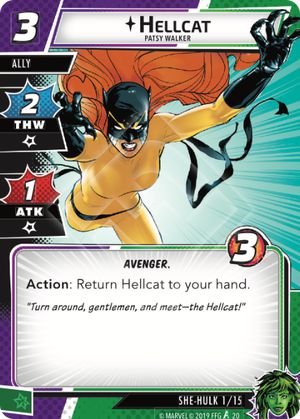 I didn't understand what Hellcat was doing in this set when I first saw her. I wasn't sure what tricks the bouncing enabled, playing her again for 3 every time felt expensive, and I wasn't especially interested in Leadership decks building around it.
But now I understand that she's not just a gimmick card; she's also a strong staple for She-Hulk, no tricks required. Here's the two key bits:
She's a very reliable source of thwart, helping make up for She-Hulk's 1 THW in aspects like Aggression.
Her ability is most commonly useful as "Action: Spend three resources -> Heal all damage from Hellcat and ready her."
Three resources is the same effective cost as playing First Aid and Get Ready from hand. It's worth 4 THW total, which is pretty good return for 3 resources—the same as an activated For Justice!. This wouldn't usually be good enough value on an Event (sorry, For Justice!), but as an effect you can do any time forever? That's very very flexible and strong.
When playing She-Hulk, keep an eye out for times when you have extra resources you don't know what to do with, and dump them into Hellcat. May as well keep that engine running!
(Consider Avengers Tower with her, too: it's not unrealistic to bounce her back up every turn, especially for 2 resources instead of 3!)