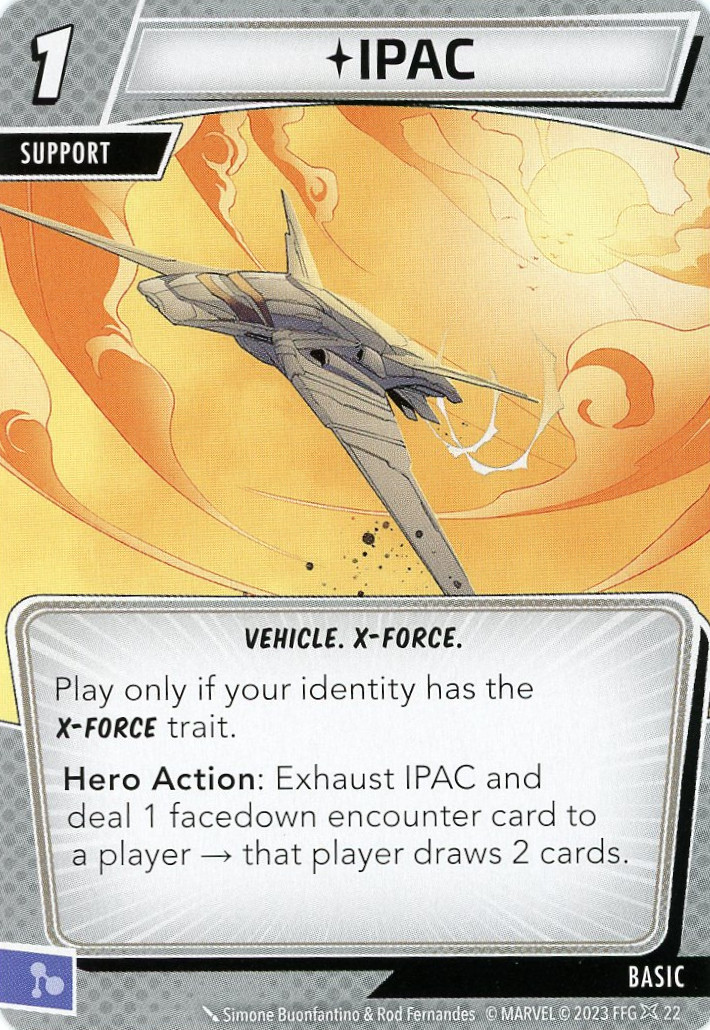 At first glance, this looks like any other engine building card (Deft focus, Helicarrier, Avengers Mansion etc.) You trade an encounter card for extra card draw. But that tradeoff is something that sets this card apart, to the point that it completely changes how it should be viewed.
The general idea with a lot of engine building cards is that they are really strong early game plays (because you benefit from them for the rest of the game) and they get progressively worse to play as the game goes on. For instance, Avengers Mansion is a great first turn play, because it will let you draw a card for the rest of the game. But on the other hand, it is a terrible end game play. You really don't want to invest 5 resources for only 1 or 2 cards.
IPAC does not follow this rule. Technically, you draw more cards the earlier you play it, but you are also getting an encounter card. Drawing an encounter card in the early game (before you get all of your supports and upgrades out) is usually a lot worse than drawing an encounter card late in the game. If you use this on the first turn to draw 2 cards, on the second turn you may need 2 or more cards worth of resources to deal with that encounter card. But if you use it late in the game, when your damage, thwart, and resource engines are all chugging along, its less of an issue. If you are only a few turns from winning, you may be able to just ignore whatever that encounter card is and push through to victory. And finally, on the last turn, that encounter card will never even get to be revealed. You can actually just play this on the last turn, spending 2 effective resources to draw 2 cards, essentially just cycling cards for something to close out the game!
In that sense, this becomes a 'win more' card. When you get to the point that encounter cards don't matter, you are already winning the game or nearly so. The extra card draw would ideally just speed up that result and end the game sooner. —
Nived · 7