Surge.
Attach to the minion with the highest printed hit points and without another Biomechanical Upgrades attachment.
Forced Interrupt: When attached minion would be defeated, heal all damage from it instead, this discard this card.
Boost:
Core Set #185. The Doomsday Chair #4-6.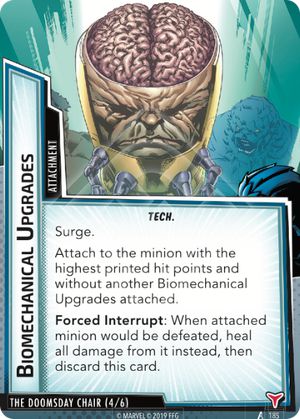 Minion
Cyborg. Elite.
Attack: 2. Scheme: 2. Health: 8.
Retaliate 2. (After this character is attacked, deal 2 damage to the attacking character.)
Boost:
"You should have stayed hidden under the rock you crawled out from!"
Core Set #184. The Doomsday Chair #3.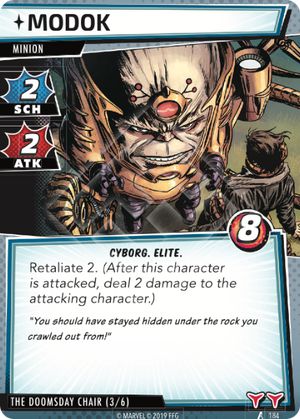 Side Scheme
Starting Threat: 8.
When Revealed: If MODOK is not in play, search the encounter deck and discard pile for MODOK and put him into play engaged with you, then shuffle the encounter deck.
Boost:
Core Set #183. The Doomsday Chair #1-2.